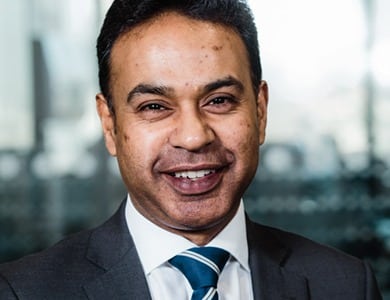 | Company | Position | Country |
| --- | --- | --- |
| Cell & Gene Catapult | Business Development & Transactions Manager | United Kingdom |
Dr Mak Khan PhD
Cell and Gene Therapy Catapult
Mak Khan is the Business Development and Transactions Manager at the Catapult where he supports the growth of the cell and gene therapy industry through collaborations with the academic and industrial community.
He began his career in clinical research as Head of Molecular Biology at the Heart Science Centre for Sir Magdi Yacoub where he established a comprehensive diagnostic and international research programme. Mak went on to be instrumental in setting up the West London Biotechnology Hub as part of a joint Department of Health and Trade and Industry initiative to establish the technology transfer and commercialisation of novel medical technologies generated within the National Health Service and associated Universities. His work led to him being appointed Director of the spin-out company, Exstent Ltd which successfully developed an exovascular stent to surgically manage patients with a dilated aorta.
Mak has held management roles in the pharmaceutical industry for both Roche and Takeda managing their commercial portfolios in HIV, hypertension and diabetes as well as going on to develop and manage the clinical trials support programme for MPS Commercial. He holds a PhD in Molecular Virology from the University of Essex.