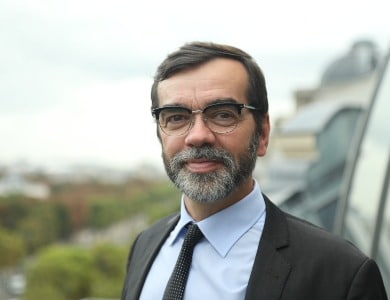 | Company | Position | Country |
| --- | --- | --- |
| Domain Therapeutics SA | CEO | France |
Le Dr Pascal Neuville a pris la direction générale de Domain Therapeutics en 2008. Il a négocié et signé les accords de recherche et collaboration avec Takeda, Merck Serono, Ono Pharma, Alkermes, et récemment Merck KGaA. Il a aussi conçu et mis en œuvre la stratégie de Domain de développement clinique de ses actifs par des sociétés mono-projets dont les plus avancés sont en Phase II clinique. Il a également négocié et signé plusieurs accords de licence avec des universités pour constituer la plateforme technologique de la société.
Avant de prendre ses fonctions chez Domain, Pascal a occupé pendant six ans le poste de Directeur Scientifique chez Faust Pharmaceuticals, une société de découverte et de développement de médicaments pour traiter les maladies associées au système nerveux central, et dirigé des équipes de recherche chez Transgene (NASDAQ). Il a précédemment enseigné à l'Université de Genève en tant qu'Assistant Professeur. Pascal Neuville possède un doctorat de l'Université de Strasbourg. De 2008 à 2010, Pascal a été président du conseil d'administration d'Alsace BioValley, le pôle de compétitivité en sciences de la vie, et a continué en tant que membre du conseil d'administration de 2010 à 2014. Il est également membre du comité d'investissement de la SATT Conectus Alsace et siège au conseil d'administration d'Axilum Robotics, WhiteQuest et Defymed.
Dr. Pascal Neuville took over the management of Domain Therapeutics in 2008. He negotiated and signed research and collaboration agreements with Takeda, Merck Serono, Ono Pharma, Alkermes, and recently Merck KGaA. He designed and implemented Domain's strategy of clinical development of its assets through single-project companies, the most advanced of which are in Phase II clinical trials. He has also negotiated and signed several licensing agreements with universities to form the company's technology platform.
Prior to joining Domain, Pascal spent six years as Chief Scientific Officer at Faust Pharmaceuticals, a drug discovery and development company dedicated to treating central nervous system disorders, and headed a research team at Transgene (NASDAQ). He previously taught at the University of Geneva as an Assistant Professor. Pascal Neuville holds a PhD from the University of Strasbourg. From 2008 to 2010, Pascal was Chairman of the Board of Directors of Alsace BioValley, the life science competitiveness cluster, and continued as a member of the Board of Directors from 2010 to 2014. He is also a member of the investment committee of SATT Conectus Alsace and sits at the board of directors of Axilum Robotics, WhiteQuest and Defymed.