MediSieve Ltd., elected as the most innovative start-up
Among 50 applications, 19 start-ups were selected to pitch during the Start-up Slams at BioFIT in different categories such as cell-therapy, cardio-metabolic, wound-care, animal health, cancer and CNS. MediSieve Ltd., an English start-up represented by George Frodsham, founder and CEO, is the winner of this year's edition of the Start-up Slams, from the cancer category.
"We were very pleased to be one of the winners of the pitching contest at BioFIT. These pitching sessions are really valuable opportunities to showcase MediSieve to an audience of potential partners and investors, to share with them the work we're doing and progress that we've made. Winning the award of "most innovative start-up" in a highly competitive line-up, was great further recognition of our work." George Frodsham – Founder and CEO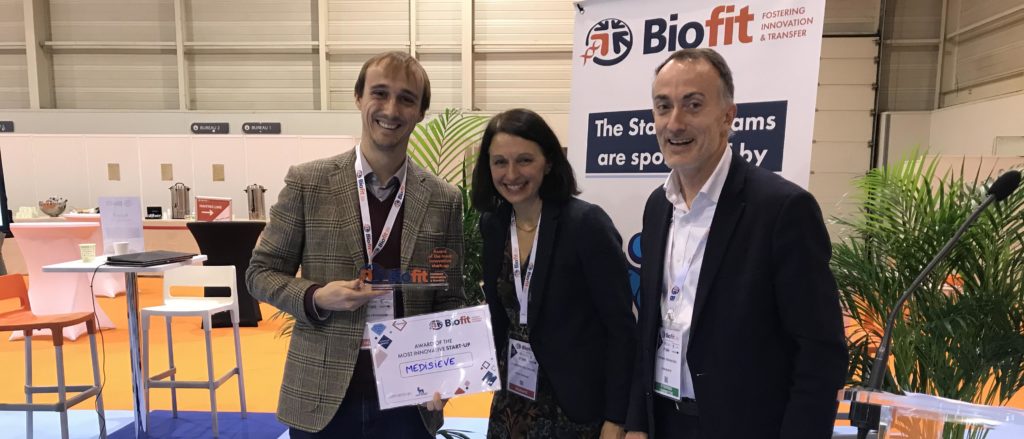 MediSieve spun-out from University College London in 2015 to develop and commercialise magnetic blood filtration. The company has raised a total of £2.1M in equity funding and won grants worth a total of over £2M from the Wellcome Trust, Innovate UK, NIHR i4i and the EU Horizon 2020 SME Instrument. With the ability to specifically and selectively remove disease causing agents from the blood, magnetic blood filtration has the potential to transform the treatment of blood borne diseases. The company's initial targets include Sepsis, Leukaemia and Malaria. Located in the new Imperial College Translation and Innovation Hub in White City, the company is preparing for first in man trials in 2019.
ALCEDIAG, elected as the most promising technology
35 TTOs, universities, research institutes and companies applied to the Collaborative and Licensing Opportunity Presentations to showcase their technology in front of potential partners in order to entail a collaborative project and / or a licensing deal. 9 of them have been selected to pitch during BioFIT in 4 different categories: diagnostic, CNS, cell-therapy and infection. ALCEDIAG, represented by Marianne Morini, Business Development Manager, received the "Most promising Technology" award
"We are very proud to win this award! It means that our achievements in developing accurate blood tests for precision psychiatry are appealing not only to clinicians and patients but also to pharma companies and investors who were in the jury. We are convinced that this award will contribute to improve our visibility and to gain additional market traction in the coming weeks…" Marianne Morini, Business Development Manager

ALCEDIAG is a precision diagnostics company with a first focus on mental health. The company develops blood-based diagnostic solutions for psychiatric diseases based on proprietary biomarkers. In addition, the company has developed a biomarker discovery platform that can be used for different types of pathologies (neuropsychiatry, inflammatory diseases, cancer) as well as cell tests allowing the modeling of the impact of drugs on patients and more precisely the potential psychiatric adverse side effects induced by drugs.
Velabs Therapeutics GmbH, elected as the most innovative offer
11 innovative offers have been selected among service providers and technology platforms that applied to the Service Presentations. They showcased their offer in front of potential clients. Velabs Therapeutics, represented by Dr. Christoph Antz, Managing Director, received the "Most innovative offer" award.
"I was attending the Pitch session in order to (a) leverage our company's visibility, (b) to have an external and independent view on it by experts and (c) to increase our chances finding potentially interested collaboration partners during BioFIT, which, after all, is morphing more and more to a bigger European high quality meeting, comparable to BioEurope and other formats. I did not do it for winning the price, for sure. The announcement of Velabs as a winner really surprised me, as I felt the level of competition extremely high, having heard all the other top pitches. So last not least, I am happy about the price and very proud, that we could do it! We feel honored by the jury's decision and hope to fulfill the expectations in the field, which is full of good concepts and strong competitors, even in our narrow field of microfluidic screening. We consider the jury's vote as a validation of our concept and technology." Dr. Christoph Antz, Managing Director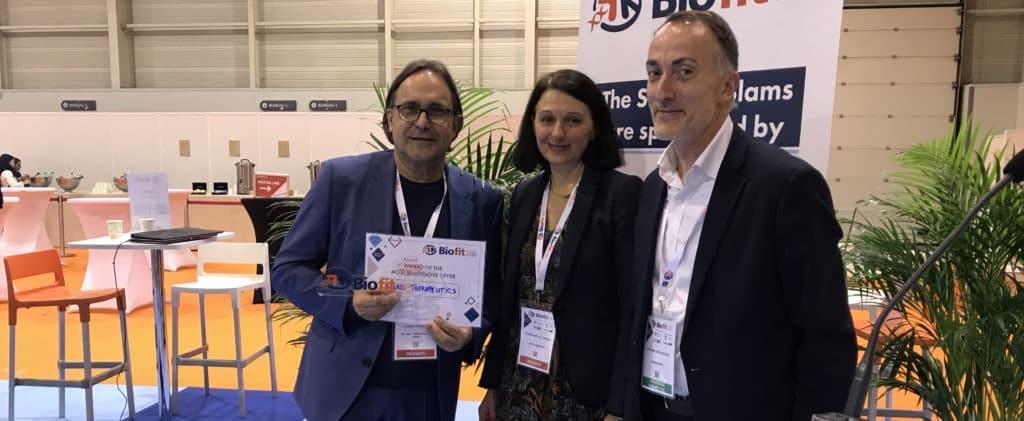 Velabs is a leading pioneer in microfluidics-based technologies for functional screening of antibodies. Our high-throughput screening platform allows for testing millions of correctly paired fully natural IgGs from humans and mice for therapeutic effects, rather than just for binding. Rare functional hits are readily  identified, which might be laborious or even impossible using other technologies. Velabs' antibody screens can thus significantly and competitively shorten pre-clinical development.
AND BioPharma, elected as the most innovative animal health project
3 innovative animal health projects have been selected among companies that applied to the Animal Health Collaborative Opportunity Presentations and showcased their project in front of potential partners and investors. AND BioPharma, a Belgium project represented by Peter Jens, CEO and Business Development, is the winner of this year's edition of the Animal Health Collaborative Opportunity Presentations.
"AND BioPharma was present last year in BioFIT Lille and we were surprised about the gigantic partnering effort that was organised. As we originate from agriculture we are not used to "everybody doing it with everybody". Yet we think it is the way forward. Diversity in partnerships will deliver the greatest value to farmers, patients and citizens alike. Hence, we opted to pitch our intriguing, disruptive and remarkable DNA selftoxicity technology in Marseille and, lo and behold, we won an award for "most innovative animal health project". Of course, the project is really about improving mammalian health, but the industry still makes a difference between animals and humans. We look forward to be present at BioFIT 2020 in Strasbourg…." Peter Jens, CEO and Business Development

AND Biopharma stimulates, in collaboration with the pharmaceutical industry, healthcare providers, insurance companies and thoughtleaders, the natural balance between hosts and troublesome invaders in humans and other animals. By the development of efficient and effectual medicines based on the powerful and proven self DNA-inhibition principle, discovered and patented at Frederico II University, Napels, Italy.