Steering Committee member and panelist Cécile Théard-Jallu,  partner at de Gaulle Fleurance et Associés, France, shared a few words on the importance of using the law as a tool to develop your projects :
The law as a crucial tool within the innovation framework, is a topic mentionned in some of BioFIT 2015 sessions.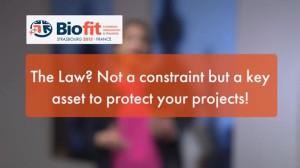 First, the subject is thoroughly developed in the session "Shaping the future of Open-Innovation :  does the IP legal framework need remodeling ?" addressed by 4 high-level experts :
–        Moderator : Timo Minssen, Associate Professor, University of Copenhagen, DK
–        Philippe Borne, Regional Representative Strasbourg, INPI Alsace, FR
–        Gauthier Obrecht, Patents Biotech Manager, Boerhinger Ingelheim, DE
–        Sumitra Rajagopala, CEO of BioAstra Technologies, CA
Moreover, on December 2nd in the session "How to implement and perform scientific and technological Due Diligence?" scheduled at 2pm, alongside Diane Seimetz, Co-founder, BioPharma excellence, DE, Carl Jessop, Due Diligence Director, Astrazeneca, UK,  David Malek, VP Business Development, Biolinerx, Israel and Martin Cadman, Director Scientific Licensing, GlaxoSmithKline, Cécile Théard-Jallu will share her expertise on the topic from a legal point of view.
So, is the law a tool or a constraint ? Come share your opinion at Biofit2015!
Discover the full speaker list here, and the conference program here
Want to speak at BioFIT? Contact us!