BioFIT is organised annually and alternates between Marseille, Strasbourg and Lille.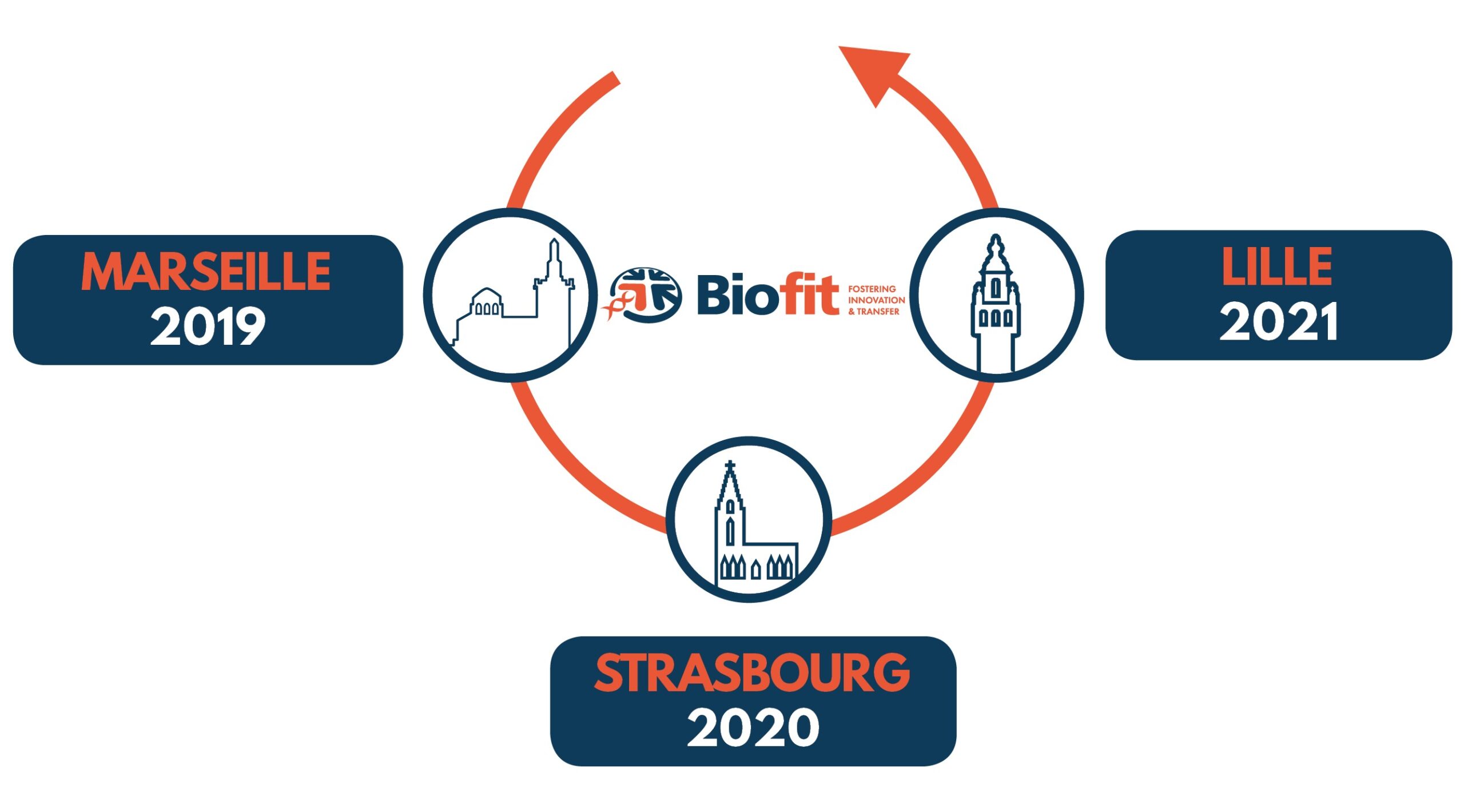 Eurasanté is an incubator, a technology transfer tool and a cluster manager all at once, in the biotech, medtech, nutrition and healthcare fields in Northern France. It helps French and foreign companies, entrepreneurs, scientists and clinicians with their innovations and development projects.
The regional network includes more than 1,000 companies working in the Life Sciences and Healthcare fields. It enjoys an exceptional location in the heart of Europe (near Paris, London, Brussels…). The Health field in the Hauts-de-France region has a total of 28,000 employees. Eurasanté also promotes the Eurasanté Bio-business Park which hosts 7 hospitals, 4 universities, 7 specialised schools, 170 companies and 50 laboratories.
In addition, Eurasanté organises 4 international partnering events, which aim to increase and improve interactions between academia and the industry.
The Nutrition Health Longevity (NHL) Cluster is a dynamic network that focuses on the primary health issues of today, at the intersection of health, biotechnology and nutrition.
The NHL Cluster aims to connect academia and industry partners around R&D projects, leading to innovative products in the fields of nutrition and health.
The NHL Cluster focuses on the fields of prevention and treatment of lifestyle-related diseases, such as metabolic and cardiovascular pathologies, neurodegenerative diseases and inflammatory bowel diseases. Its goal is to gather and support players from the health and food sectors in designing, developing and financing their future products and processes.
Competitiveness cluster since 2005, BioValley France aims to federate, develop and promote the healthcare sector in the Grand Est region through innovation. The cluster is based on a dynamic network of companies, a leading academic and clinical research, as well as an integrated network of key stakeholders in innovation.
BioValley France supports its members in their R&D Innovation approach and gives them access to high value-added expertise, in a market approach. The Cluster contributes to the networking of the various actors and the creation of regional, national and international partnerships.
Finally, BioValley France actively participates in the territory's structuring projects, such as Nextmed, which aims to create a Medical Technologies campus in Strasbourg that hosts an entire ecosystem of excellence dedicated to the development of tomorrow's health technologies.
Founded in 2009 by regional stakeholders, EUROBIOMED is the Life Science cluster from Southern France. We gather more than 250 innovative biotech and medtech companies, as well as leading research institutes, hospitals and universities. We lead territorial initiatives and help our members businesses and research organisations to innovate, finance, develop and achieve their scientific and business objectives, to ultimately improve the treatment and the lives of patients.
Eurobiomed tops European rankings in all stages of innovation: education, basic, translational and clinical research, technological innovation centers, start-ups and industrial success stories. Some of Eurobiomed main assets are the number of people involved, but also the quality of the network and trust that is established between its members, which reinforces the interactions and facilitates collaborations.
Eurasanté organises 4 annual events: