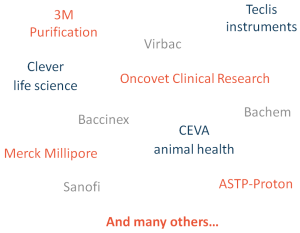 From small to big organizations, as our confirmed exhibitors,
find the perfect exhibition package to highlight your visibility during BioFIT 2015!
Besides highlighting your visibility, the exhibition has many other advantages :
Improving your company's image, prestige and credibility,
Getting identified as a key innovative actor in Life Sciences,
Reassert your corporate focus on innovations
Speeding up your business strategy,
Getting additionnal networking opportunities.
Check the exhibition packages.
You want to discover who you will meet in the exhibition area?