The BioParty is the perfect opportunity to continue to network while having a break from the two-day convention BioFIT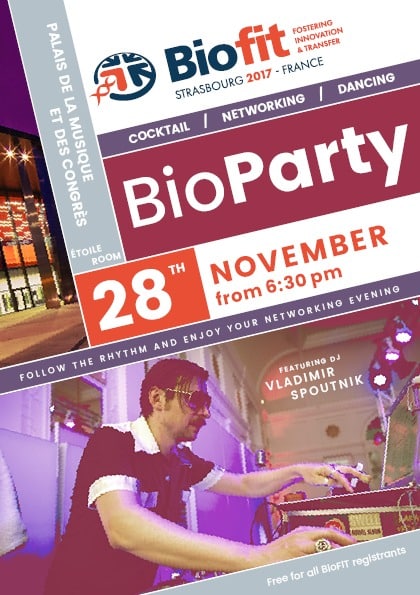 The BioParty will be animated by Vladimir Spoutnik.

Who is Vladimir Spoutnik?
Vladimir Spoutnik is a DJ, a crooner, an actor and for sure, a man with a moustache!
Straight from Northern Asia, his destiny is being closely related to the first great heroes of the universe: Laïka, the intrepid little dog and the brave Yuri Gargarin. Therefore, he is a god of modern times: the most jovial disk-jockey!
His specialty?
To mix discs in a suitcase!
To stretch your ears in an atmosphere of dance hall, and maybe dance under the stars, if you're fancy it, Vladimir Spoutnik will play a heavenly disc, right in his suitcase!
The BioParty will be held at the Palais de la Musique et des Congrès, on 28th November from 6:30 pm.
It is free for all BioFIT's attendees. 
Follow the rythm and enjoy your networking evening!