Many thanks to Pfizer for joining BioFIT 2018 as a Bronze Sponsor!
Pfizer is a leading research-based biopharmaceutical company. They apply science and their global resources to deliver innovative therapies that extend and significantly improve lives. They make medicines and vaccines that help people when they are sick and prevent them from getting sick in the first place, as well as some of the world's best-known consumer healthcare brands.
Pfizer teams work in developed and emerging markets to treat, cure and eradicate life-threatening conditions and challenge some of the most feared diseases of our time. Pfizer also collaborates with healthcare providers, governments and local communities to support and expand access to reliable, affordable healthcare around the world.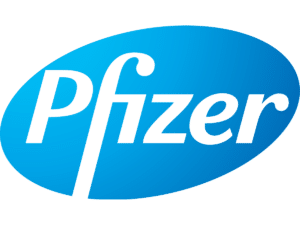 Join key BioFIT 2018 sponsors such as Bayer, Roche, MSD, Boehringer Ingelheim and LFB, to have the opportunity to:
Identify your organisation with the main partnering event in Europe dedicated to tech transfer, academia-industry collaborations, early-stage innovations and seed investment in Life Sciences
Highlight your interest in early-stage innovation
Present your ideas and technologies to key innovation players in Life Sciences
Enhance your visibility on an international scale and be recognised as a key innovative actor
Show your expertise thanks to specific communication tools
They were the BioFIT 2017 sponsors: Sanofi, Pfizer, Bayer, Genfit, Lilly, MSD, Merck, Boehringer Ingelheim, Johnson & Johnson Innovation, Novo Nordisk, LFB, PPRS and Trianni.