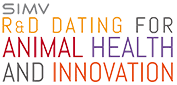 BioFIT 2018 will host the 4th edition of the "R&D dating for Animal Health and Innovation" business convention, at the French association for the animal healthcare industry (SIMV)'s initiative, on the 4th and 5th of December 2018, in Lille.
Today, public-private and private-private partnerships are thought to be the leverage that is needed for innovation. That is why the SIMV launched the "R&D dating for Animal Health and Innovation", which strives to initiate high-level exchanges between research departments of the veterinary medicine and diagnostics industry and public research, as well as with biotechnology companies (start-ups).
By enabling face-to-face encounters, the event will enhance the visibility of cutting-edge research in France and in Europe, encourage investments and lead to therapeutic innovation.
About SIMV
While being the organiser of this meeting, the SIMV intends to federate research actors by actively contributing to meet the needs in animal health innovation. In particular, enhanced research is needed to supplement and renew the therapeutic arsenal for the treatment of infectious diseases and therefore research and innovation on this topic should be promoted.