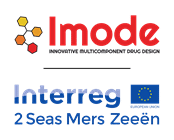 IMODE is organising its second annual convention during BioFIT with a morning of conferences and participation in the BioFIT one-to-one meetings during the afternoon.
The IMODE conference will feature the following subjects:
Electrospinning approach to drug delivery;
Regenerative medicine approach;
Functionalised nanoparticles approach;
Tissue Engineering approach;
Cardiovascular disease, Restenosis and Thrombosis.
IMODE is a collaborative research project for multicomponent pharmaceutical products (co-amorphous and co-crystals) and medical devices that are loaded with bioactive molecules. Started in 2016, the IMODE project is funded by the European Interreg 2 Seas programme and co-financed by the European Fund for Regional Development (EFRD).
The project's overall objective is to bring together the specific transdisciplinary skills and experiences of partners (academic research groups, development agencies, SMEs) in order to provide the 2 Seas Area with strategic advantages for innovative pharmaceutical and medical applications. The IMODE project is motivated by an unmet need to develop solutions to addressing societal challenges to improve healthcare and provide novel and effective medication for various cardiovascular or gastro-intestinal conditions that lack or have inadequate treatment, all while keeping medical costs low.