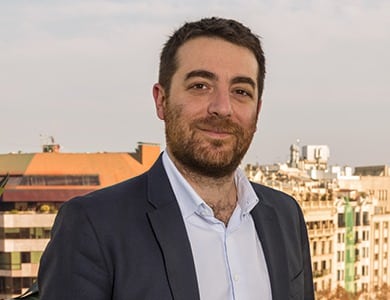 | Company | Position | Country |
| --- | --- | --- |
| ASABYS PARTNERS | Investment director | Spain |
Sylvain Sachot is investment director as Asabys Partner. Sylvain joined Asabys in 2018 from Ysios Capital, where he was an associate responsible for sourcing and diligence of investment opportunities in the fields of biopharmaceuticals and medtech. He was particularly involved in the investments in Corwave and Vivet Therapeutics in France, Anaconda Biomed in Spain, Xeltis in Switzerland, Galecto and Oxthera in Sweden. Previously, Sylvain was a postdoctoral fellow in the department of Genetics and Genomic Sciences at the Mount Sinai School of Medicine in New York. He obtained his Ph.D. in Molecular Medicine from University of Nantes in 2009. Biotechnologist by training, Sylvain particularly focused during his (post)doctoral studies in the field of gene and cell therapy and lysosomal storage disorders. He has a broad understanding of the needs and the trends in the biopharma and medtech industries. Sylvain obtained his master's degree in biotechnology with honors from University Paris XII. He also completed an MBA at Esade Business School in Barcelona in 2014. Sylvain has full professional proficiency in French, English and Spanish.