Laura Soucek, CEO of Peptomyc, one of the most Innovative Life Sciences Start-up of BioFIT 2018, reveals information on Peptomyc and explains why they attend BioFIT, and in particular why they applied to the Start-up Slams.
What is Peptomyc?
Peptomyc is developing new peptide therapies for the treatment of cancer patients. Our peptides are able to attack Myc, a protein required by cancer cells – but not normal cells -, to divide, thrive and survive treatments. That means that, attacking Myc, we can selectively kill cancer cells without damaging normal tissues.
Why your therapy is innovative?
Our therapy is innovative because 1. nobody has managed to efficiently attack Myc before; 2. because it  is effective against cancer but gentle on other tissues, sparing the patient from toxic side effects; and 3. last but not least, because it is potentially applicable to all types of cancer. It is the opposite of personalized medicine: it is universal medicine.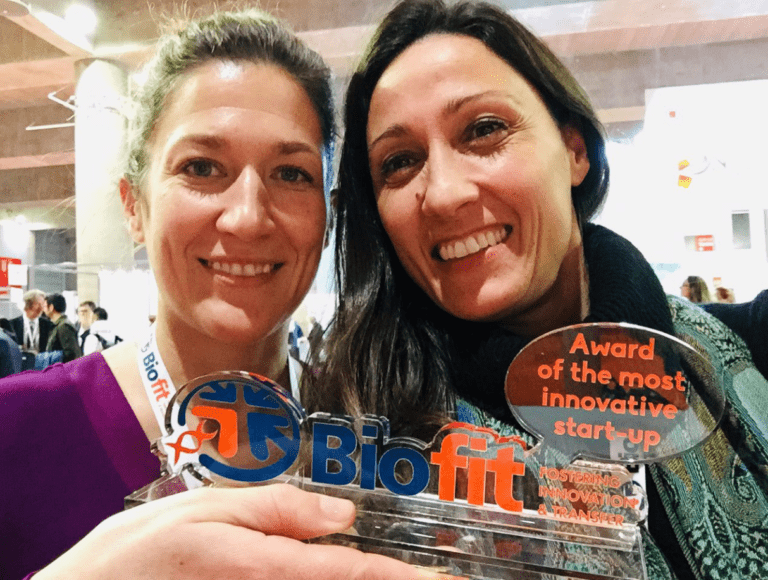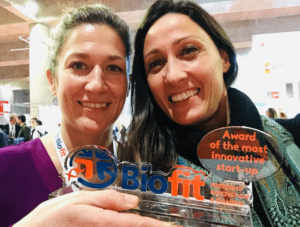 Laura Soucek, CEO of Peptomyc and Marie-Eve Beaulieu, CSO
Why did you apply to the Start-up Slams?
Because it seemed like a great opportunity to gain exposure in one of the biggest events in Europe for early start-ups and investors. It is also a way to take advantage of speed mentoring from the expert juries and a nice platform to establish useful networks.
Why did you attend BioFIT?
We are now in pre-clinical regulatory studies and, if everything goes well, we should be able to start clinical trials at the beginning of 2020. That requires a next round of investment by the end of 2019. At BioFIT we looked for the chance to meet with smart investors that could be interested in our project.
What do you retain from these two days?
It is a very nice specialized conference, which favors informal and formal contacts between start-ups, VCs and CROs. It is less intimidating and more friendly than other international events, especially for early stage biotech companies.
What will you say to someone which aims at appling to the Start-up Slams in 2019?
Go for it! It is a very productive experience and a chance to learn from peers and from expert jury members.